These are some of my Christmas biscuits.
Many of them can be made in summer, too.
Two kinds of macaroons
Makes 40
4 egg-whites,
250 g icing sugar,
200 g desiccated coconut flakes,
50 g chopped unsalted pistachios,
3 drops of bitter almond flavouring,
200g ground almonds,
100 g dried apricots.
1) Whisk egg-whites with icing sugar until stiff. Halve mix.
2) For coconut macaroons add coconut flakes, pistachios and almond flavouring (I don't know how ours compares to yours, but you should really taste it) to one half of the mix.
For the almond macaroons add finely chopped apricots and and ground almonds to the other half of the mix.
3) Preheat oven to 160 °C. Use teaspoon to put dollops of the mix on baking paper. Bake for 20 minutes.
Preparation 50: mins.
Baking time: 20 mins.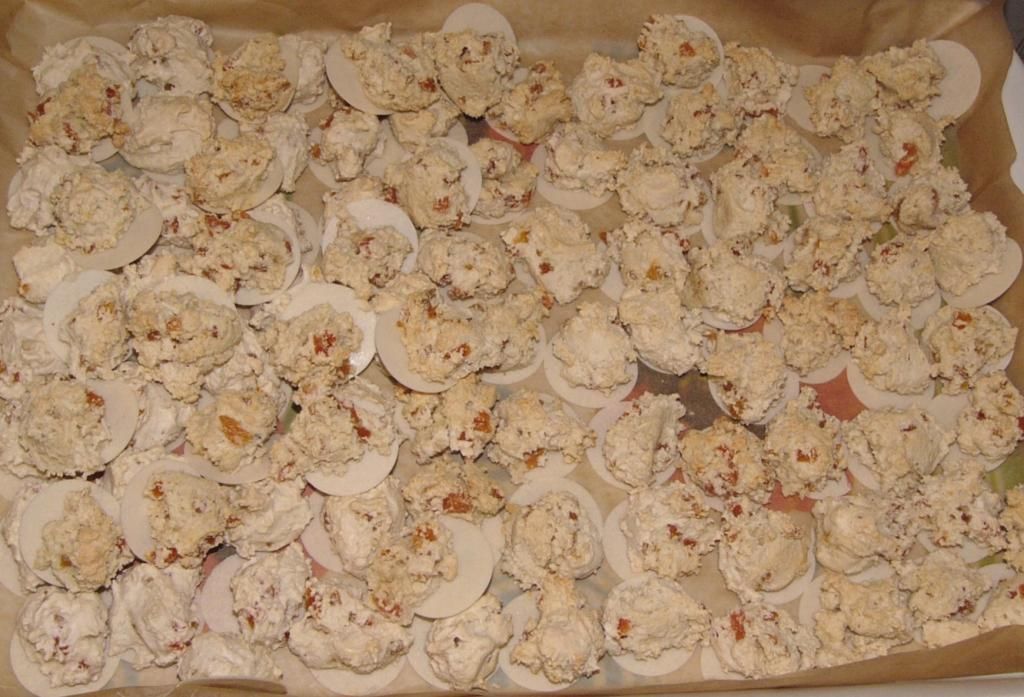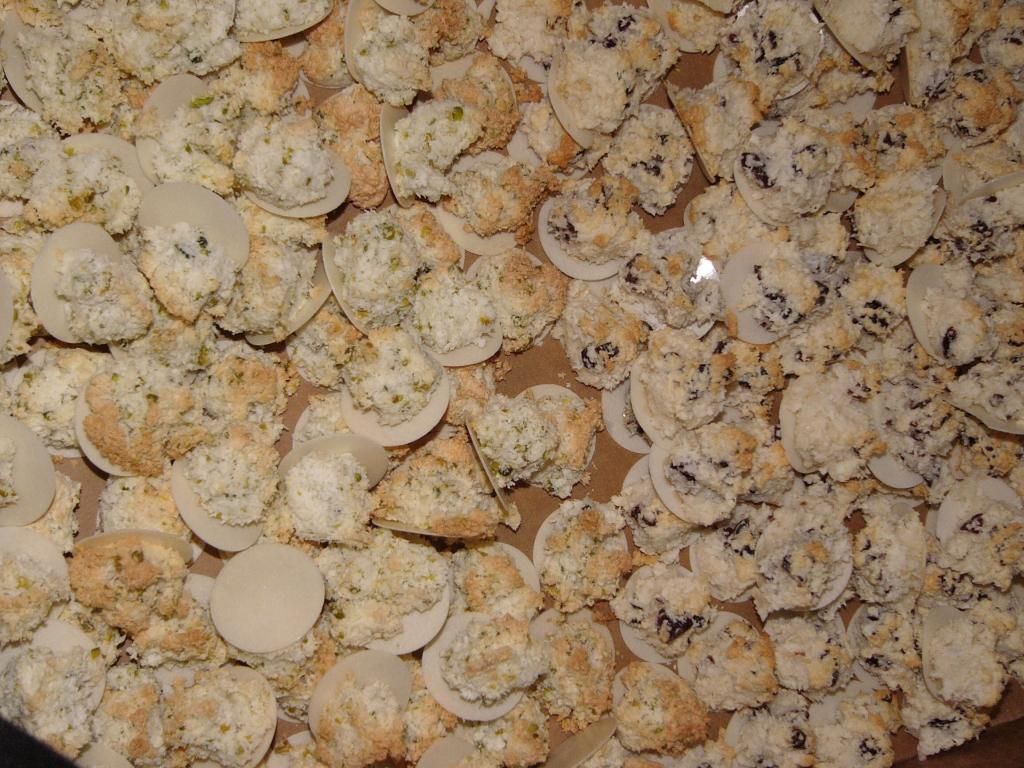 Hazelnut Macaroons
4 egg whites
250 g ground hazelnuts
160 g icing sugar
1 pinch of salt
1 bag of shelled hazelnuts
1 teaspoon of ground cinnamon
Whisk egg whites and the pinch of salt until really, really stiff, fold in the sugar, the cinnamon and the ground hazelnuts.
Put little dollops (a smallish teaspoon full) of the mix onto a baking sheet covered with baking paper. Decorate each macaroon with a whole hazelnut and bake in the preheated oven (175° C) for 15 minutes.
Almond biscuits
250 g plain flour
50 g corn or potato starch
100 g ground almonds
100 g sugar
200g unsalted butter
1 whole egg
1 tblsp vanilla sugar
5 drops bitter almond flavouring
(I am not sure how German and British aromas compare, so check out what your bottle says, please)
--------------------------
1 egg yolk (for the eggwash)
blanched almonds for decoration
Make a dough from the ingredients above the dotted line and leave it to rest in a cool place for an hour.
Then roll it out to 4-5 mm thickness and cut out stars (or any other shape you fancy). Eggwash biscuits, press one almond onto each and bake in preheated oven at 175 °C until golden brown.
These biscuits will keep for weeks if kept in a tin (leave them to cool out over nigth before consigning them to tin).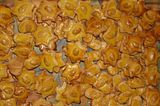 ----------------------------------------------------
Snowflakes
250 g unsalted butter
100 g icing sugar
1 vanilla pod
250 g cornstarch (any food starch will do)
100 g plain flour
Put softish butter into a mixing bowl, add icing sugar, the scraped out marrow of the vanilla pod, starch, and 1/3 of the flour and mix well with the mixer. Finally add the rest of the flour and knead well. Leave it in the fridge until cold.
Form tiny balls the size of small cherries and set them onto a baking tray with baking paper. Use a fork (dipped in flour from time to time) to flatten them a bit and give them a pattern.
Preheat oven and bake the snowflakes at 175°C for about 10 minutes (they burn easily, so check and take them out when they are still quite pale).
Then transfer them carefully to a cake grid and allow them to cool down.
They keep for weeks in a tin and actually get better having matured a bit.
(oh, they run a little, so leave some space between them. I'd say about as much as their own diameter before flattening)
Lime and Lemon Biscuits
for the dough
400g plain flour
1 pinch salt
125 g sugar
2 satchets vanilla sugar (10 g each)
1 teaspoon organic lemon/lime zest
250 g cold unsalted butter
2 egg yolks
150 g marmalade (to stick the stars together)
for the icing:
icing sugar
lime/lemon juice
lime/lemon zest
1) Make all the ingredients for the dough into a smooth dough (work quickly). Wrap in cling-foil and leave in the fridge for an hour.
Preheat oven to 200°C (says the original recipe, we usually bake biscuits at 175°C)
2) Use a rolling pin to roll out the dough on a lightly floured work surface to 3 mm thin (you can also do it between cling foil, but I find that one of those silicone sheets you can get now works best for biscuits). Cut out stars or any other shape you like.
3) Bake for about 8 minutes, leave to cool on a baking rack.
4) Heat some marmelade in the microwave and stick two shapes each together.
5) Mix lime and lemon juice and add icing sugar until you get a smooth icing. Add zest to taste and food colouring.
Fill into a plastic bag and snip off one corner. Pipe onto the biscuits.
If you are in a hurry, just zig-zag them with icing or pipe a blob which will spread.
Decorate with jelly lemon and orange slices.
Allow the icing to set for two or three days before packing them into a tin or Tupper box.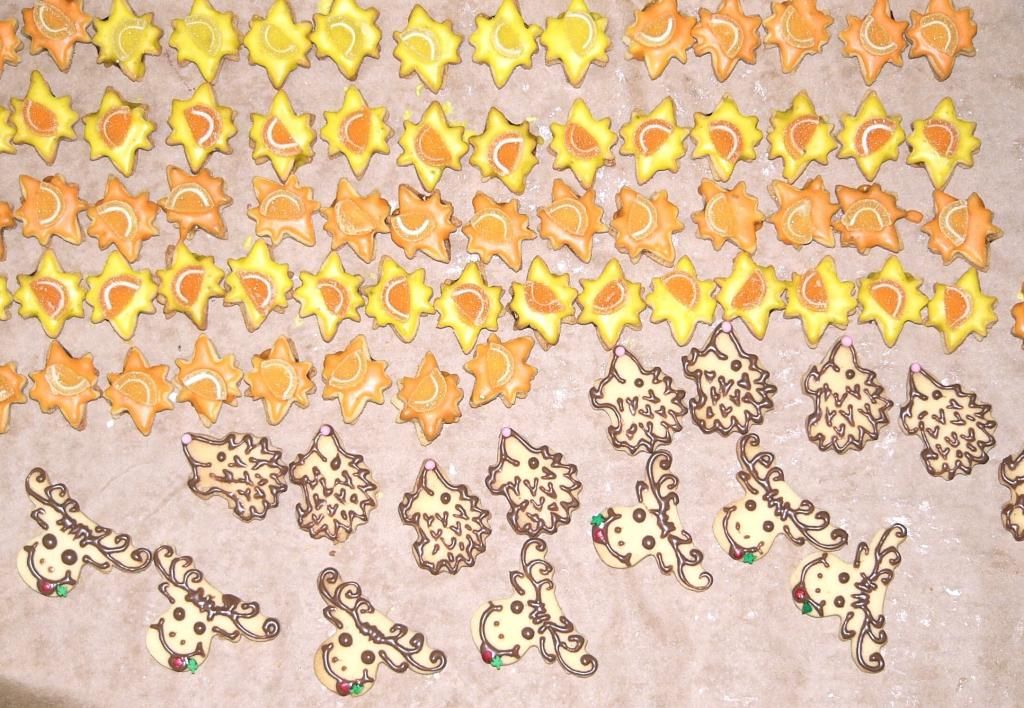 Nut Slices
Dough:
250 g unsalted butter
250 g plain flour
100 g potato or cornstarch (any starch will do)
1 heaped teaspoon vanilla sugar (or enough vanilla essence for the amount)
1 level teaspoon baking powder
125 g ground hazelnuts,
1 pinch salt,
Garnish:
1 tblsp cocoa powder
3 tblsp sugar
Make the ingredients into a dough and form sausages of 1 and a half inch thickness and roll these in a mix of the cocoa and sugar.
Put into the fridge (separated by baking paper or clingfoil) for about an hour and then cut into half a centimeter thick slices. Bake for 10 minutes at 200°C (keep an eye on them, depending on the oven they can take more or less).
The sausages will sometimes be too soft (stop snickering) and the slices will not be round, in that case five minutes in the freezer will do the trick.
We adapted the recipe and used a small dollop of hazelnut couverture (white or milk chokolate will do just as well) and stuck half a walnut onto each biscuit after they had cooled off.
In a tin they will keep for weeks. Not only that, a little rest sees them beautifully matured and even better than fresh.
Best Cutter Biscuits
400g plain flour
1 pinch salt
125 g sugar
2 tblsp. vanilla sugar
1 tsp. lemon zests
250 g cold butter (unsalted)
2 egg yolks
1) Knead flour, salt, sugar, vanilla sugar, lemon zests, butter and egg yolks into a smooth dough, working quickly.
Wrap in Cling foil and leave in the fridge for 60 minutes to cool.
Preheat oven to 175°C.
Line baking sheets with baking paper.
2) Roll out the dough thinly on a lightly floured surface (a silicone mat is ideal) and cut out biscuits.
(if you have trouble with the dough sticking to the rolling pin use two lengths of cling foil over the dough. With a bit of practice this works very well.
Transfer biscuits to the baking sheets and bake for five to ten minutes depending on the thickness. I bake mine until they show the barest hint of golden brown and then whip them out, leaving them on the tray for a few minutes more before transferring them to a cake grid to cool.
Once cool they can be decorated with icing, chocolate and whatever else you fancy.
These biscuits will keep for weeks in a tight fitting tin.
Angel Eyes or Hussar's Buttons
250 g soft, unsalted butter
125 g sugar
1 tblsp vanilla sugar (or just add whatever vanilla flavouring you have)
4 egg yolks
380 g flour
100 g jam or jelly of your choice
Cream butter and sugar (+ vanilla) until whitish, then add egg yolks and cream until fluffy. Add flour bit by bit (I abandon the mixer halfway through and do the rest by hand) until your dough is smooth.
Make dough into small balls of about half an inch or an inch in diameter. Use your thumb or the end of a wooden spoon (or any other implement that will give you a round dimple in the right size) to make a dimple into the balls. Then fill with jelly and leave to stand in the cool for 30 minutes.
Bake in the preheated oven at 180°C for 10 to 12 minutes.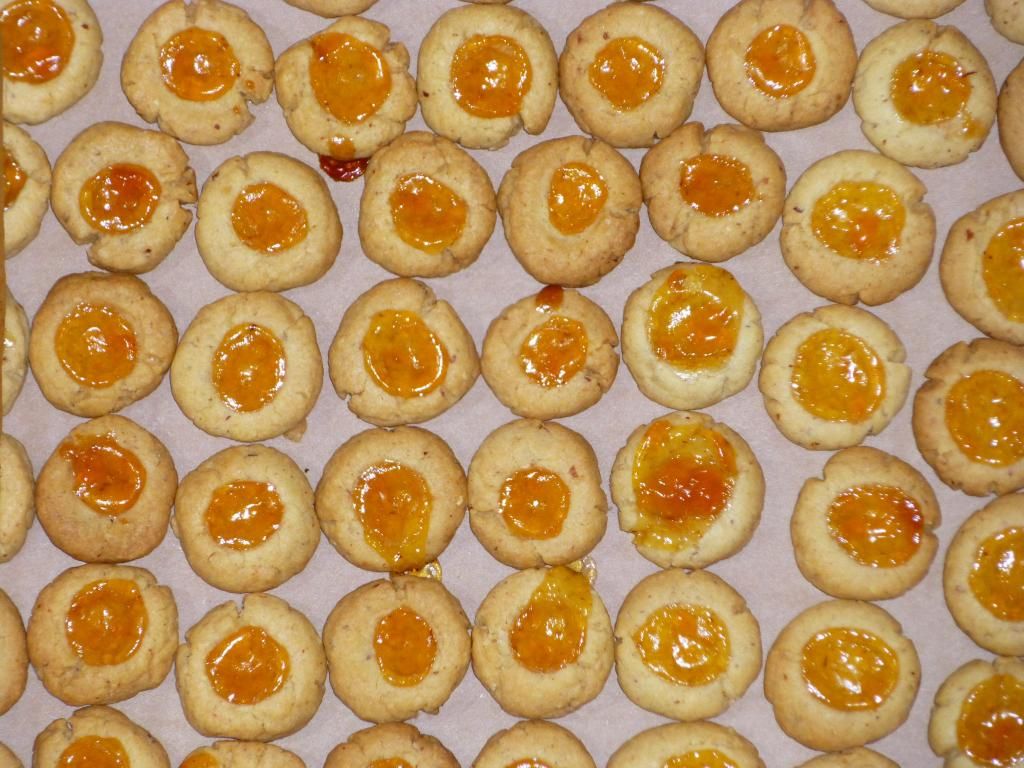 Ginger Biscuits
dough
125 g unsalted butter
125 g sugar
1 teasp. vanilla sugar
1 heaped teasp. ground ginger (or more if you like)
1 egg (medium)
200 g plain flour
50 g cornstarch (or any other food starch)
1 teasp. baking powder
75 g finely diced candied ginger
decoration
1 egg yolk
a dash of cream or condensed milk
125 g finely diced candied ginger
Cream butter and add sugar, vanilla sugar and ground ginger. Keep whisking and add the whole egg.
Mix starch, baking powder and flour and add 2/3rds to the butter mix, whisking at half speed.
Tip the rest of the flour onto the worksurface, add the dough and the diced ginger and knead into a smooth dough.
Roll the dough into 1 inch thick strands and wrap them in cling-film and put them into the fridge for a couple of hours or over night.
Preheat the oven to 175°C. Cut the strands of dough in 5 mm thick slices and lay them out onto a baking paper covered baking tray.
Mix cream and egg yolk and give the slices an egg wash, then sprinkle with diced ginger.
Bake for about 12 minutes or until golden brown.
Ingwerplätzchen
by
natterjack3
, auf Flickr